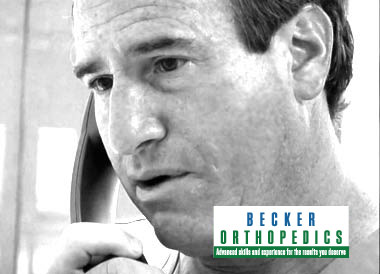 Information for Referring Providers
When your patient's body is threatened by an auto, sports or work-related injury, the pain from a shoulder, elbow, wrist, hip or knee injury can stop them in their tracks.
That's where former Mayo Clinic physician Douglas A. Becker, M.D. and Becker Orthopedics in Southwest Florida come in. Here you'll find a highly skilled orthopaedic surgeon for your patients' shoulder and knee injuries and elbow, wrist and hip problems. You'll also find the latest in minimally invasive arthroscopic surgery from a dedicated, board-certified doctor who will help you and your patients make all the right moves.
Dr. Becker works with physicians, nurse practitioners, chiropractors and physician assistants and provides fast progress reports back to you. He welcomes your referrals.
Becker Orthopedics also coordinates your patient's physical therapy rehabilitation program to speed their recovery. You may refer directly to Dr. Becker for an evaluation and he will determine if physical therapy is necessary if you're unsure.
The staff at Becker Orthopedics are certified professionals with subspecialty training and experience in Orthopaedics and Sports Related disorders. Our goal is to provide patients with a uniquely expert professional and personalized experience to yield the best outcome possible..
The information below is provided in Adobe Reader Format.